History
University of Engineering and Technology, Lahore is located in the northern part of Lahore on the historical Grand Trunk (GT) Road and is only a short distance away from the historical Shalimar Gardens, a UNESCO World Heritage Site.
In 1972 Chemical Engineering, Metallurgical Engineering, Petroleum and Gas Engineering, and several postgraduate programs were started. It was renamed as the University of Engineering and Technology, Lahore (UET Lahore) and received a revised charter in 1974.
Chemical engineering is an engineering field which deals with the study of operation and design of chemical plants as well as methods of improving production.
Chemical engineering is most often found in large-scale manufacturing plants, where the goal is to maximize productivity and product quality while minimizing costs.
Chemical engineering is a versatile field with many applications. Some of the most common applications include manufacturing, treating water and wastewater, developing new fuels and chemicals, and converting raw materials into finished products. 
Chemical engineering to develop and improve their technical products, such as:
Fertilizer
Refinery and Petrochemicals
Cement
Conventional and Specialty Chemical
Process Design
Food and Beverages
Services
Water Purification
Environmental Health and Safety
Pharmaceutical and Bio-energy
BSc. in Chemicals
Department of Chemical Engineering
The Department was established in 1962 and is the first in the country to institute Bachelor's, Master's, and Doctoral degree courses in Chemical Engineering. Currently, it has an enrollment of about 371 students pursuing undergraduate studies. The Department started M.Sc. Engineering degree courses in 1970, and since then, the postgraduate program has been on the road to progress. At present, there are 120 students pursuing M.Sc. studies. The Doctoral program is also established with 11 students currently pursuing their PhD degrees.
Courses of Study
The Department offers courses of study leading to the following degrees:
Bachelor of Science in Chemical Engineering
Master of Science in Chemical Engineering with Specialization in

Process Engineering
Energy Engineering
Biochemical Engineering

PhD in Chemical Engineering
More information about the undergraduate and graduate programs can be found on the respective pages.
Facilities
The Department has well-equipped and well-maintained laboratories which have been recently modernized and upgraded. The Fluid Dynamics Lab, Heat Transfer Lab, Thermodynamics Lab and Instrumentation and Control Lab have been recently updated with new equipment's.  These facilities not only offer excellent learning opportunities but also extend material testing and analysis services to the industry and other users.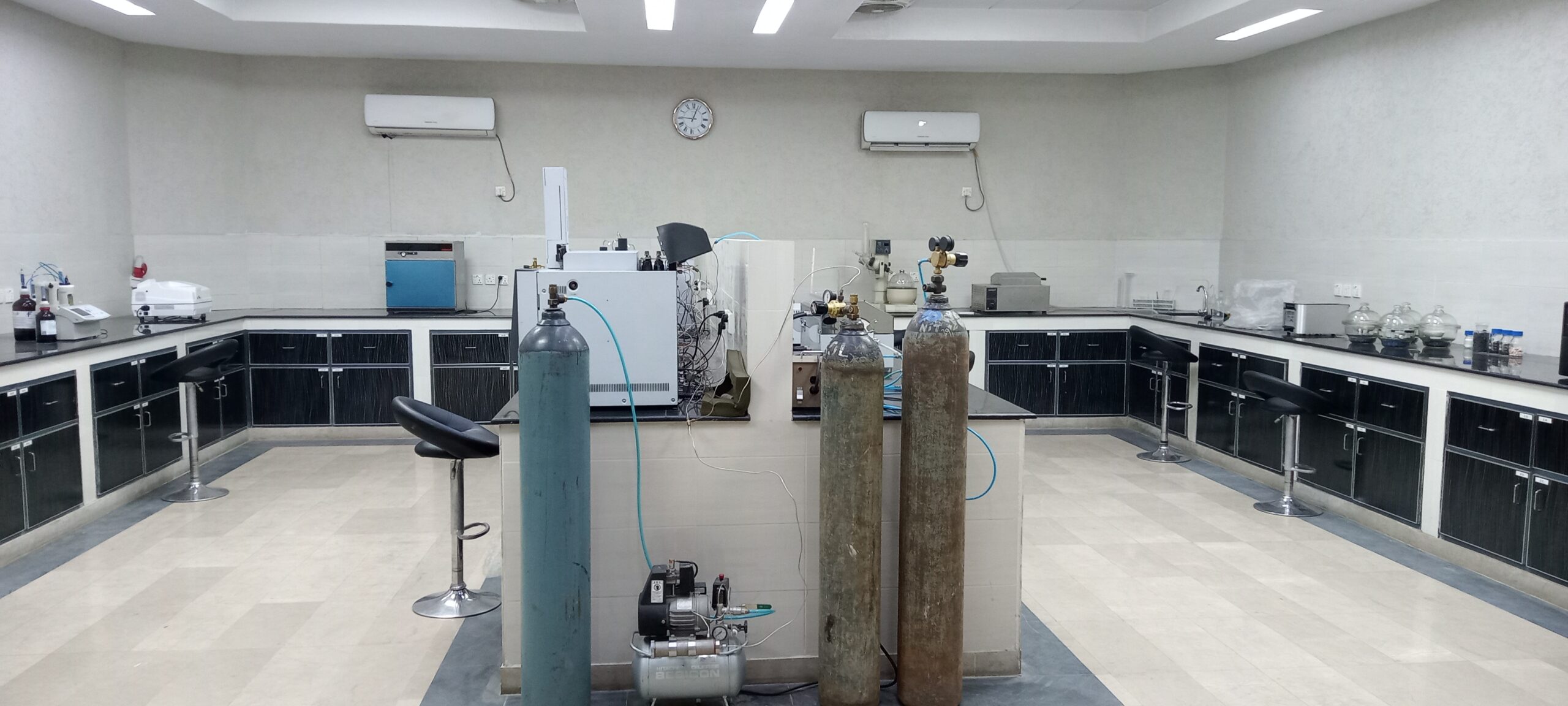 The Department has a Computer Center equipped with latest computing facilities and Catalysis and Energy Research Laboratory with latest equipment's. Apart from teaching computer languages and application of computers in various courses of Chemical Engineering, the students are encouraged to use this laboratory for their design projects, research dissertations, and class assignments. Wi-Fi facility is available in all offices, class rooms and halls. The Department has a well-organized conventional and e-library with a large stock of text books, handbooks, reference books, journals, design projects and research thesis submitted in the past. Chemical Engineering departmental has its own library with a collection of more than 2500 books available for faculty and students. The Chemical Department also has a Smart Class Room. Latest publications are regularly added to the collection to keep pace with the modern research in the field.
Students receive following facilities throughout the undergraduate session;
Academic Advice
Career and Overall Wellness
Community Project
Internships
Career Days
Job Fairs
Industrial visits to Chemical Industries
Liaison with Chemical Industry
The Department gives great importance to a close interaction with the Chemical Industry. As a result, the Department has developed constructive links with some of the major organizations, including Dawood Hercules Chemicals, Engro Chemicals Pakistan Limited, Akzonobel (ICI Pakistan Limited), Sui Northern Gas Pipelines Limited, Pakistan Petroleum Limited, Rupali Polyester, All Pakistan Textile Mills Association (APTMA) Punjab Zone, Cisco Systems USA, BEA Systems USA, Water and Power Development Authority (WAPDA), Samma Source USA, Ittehad Chemicals Limited(ICL), DESCON (Pvt.) Ltd., Environmental Protection Agency, and a number of other important industrial organizations. A number of scholarships for the undergraduates, fellowships for the postgraduate students, facilities for the practical training of students, and exchange of senior staff members for mutual benefit are some of the features of such cooperation.
Continuing Professional Development Program
The Department conducts short courses under professional development program in various areas of Chemical Engineering:
Process Design and Simulation Using Aspen Plus
Risk And Safety Management in Process Industry
Occupational Safety and Health
Behavioral Based Safety
Industrial Instrumentation
Carbon Footprint
MISSION OF THE DEPARTMENT
The mission of the Department of Chemical Engineering encompasses three key aspects:
Education: To offer an outstanding academic program to enable graduatesmaster process synthesis, design, and operations knowledge and developexcellent technical, technological and leadership skills
Research: To provide a vibrant interdisciplinary research program inengineering science, creating novel and sustainable solutions to serve publicinterests in areas such as health, energy and environment.
Social Responsibility: To promote inclusive, safe, collaborative and respectfulcommunity for learning and work with integrity.
PROGRAM EDUCATIONAL OBJECTIVES
Program Educational Objectives (PEOs) are broad statements that describe what the graduates are expected to achieve a few years after graduation. Keeping in view the vision and mission of the University and mission of its Undergraduate program, the Department of Chemical Engineering has defined following four PEOS for its Undergraduate program:
PEO-1: Apply the knowledge, principles, and skills in process industry, academia, and complementary fields to meet the stakeholder requirements.
PEO-2: Graduates achieve professional success by practicing ethical behavior, social responsibility, and diversity, both as individuals and in team environments, with effective communication.
PEO-3: Graduates pursue innovative approaches and career growth through professional practice, graduate studies, and other training programs in engineering sciences and management.
PROGRAM LEARNING OUTCOMES (PLOS)
The chemical engineering program has adopted the 12 graduate attributes, as listed in the PEC Accreditation Manual-2014. These PLOS are mapped to the university vision and mission and the program educational objectives. The PLOS are controlled through the curriculum and all the courses are:
Engineering Knowledge: An ability to apply knowledge of mathematics, science, engineering fundamentals and all broadly defined aspects of polymer and process engineering to the solution of complex engineering problems.
Problem Analysis: An ability to identify, formulate, research literature, and analyze complex engineering problems reaching substantiated conclusions using first principles of mathematics, natural sciences and engineering sciences.
Design/Development of Solutions: An ability to design solutions for complex engineering problems and design systems, components or processes that meet specified needs with appropriate consideration for public health and safety, cultural, societal, and environmental considerations.
Investigation: An ability to investigate complex engineering problems in a methodical way including literature survey, design and conduct of experiments, analysis and interpretation of experimental data, and synthesis of information to derive valid conclusions.
Modern Tool Usage: An ability to create, select and apply appropriate techniques, resources, and modern engineering and IT tools, including prediction and modeling, to complex engineering activities, with an understanding of the limitations.
The Engineer and Society: An ability to apply reasoning informed by contextual knowledge to assess societal, health, safety, legal and cultural issues and the consequent responsibilities relevant to professional engineering practice and solution to complex engineering problems.
Environment and Sustainability: An ability to understand the impact of professional engineering solutions in societal and environmental contexts and demonstrate knowledge of and need for sustainable development. • Ethics: Apply ethical principles and commit to professional ethics and responsibilities and norms of engineering practice.
Individual and Team Work: An ability to work effectively, as an individual or in a team, on multifaceted and/or multidisciplinary settings.
Communication: An ability to communicate effectively, orally as well as in writing, on complex engineering activities with the engineering community and with society at large, such as being able to comprehend and write effective reports and design documentation, make effective presentations, and give and receive clear instructions.
Project Management: An ability to demonstrate management skills and apply engineering principles to one's own work, as a member and/or leader in a team, to manage projects in a multidisciplinary environment.
Lifelong Learning: An ability to recognize the need for, and have the preparation and ability to engage in, independent and life-long learning in the broadest context of technological change.